Need Reliable Towing Services?
Every customer is important, every job is important – no matter how big or small the service might be.
We don't want an arm and a leg, just your Tows!!
This family run business first opened its doors in 1984. Husband and wife, Karl and Becky Anderson (the owners), started the shop and were the sole employees for 3 years. Over the next several years Karl hired his brother among many other qualified mechanics and technicians. Now over 35 years in business later our staff consists of Rob Rambo, Rob Hammond and Nick Axelsen as our certified and qualified mechanics. Josh Nelson is our collision expert. Additional skilled hands are Brock Anderson and Steven Haupt. Dustin Engel is our main tow truck operator as well as roadside assistance.  Our daughter Kara Schmidt is our courteous secretary.
Engine grease runs in our blood and we take great pride in our work. Your satisfaction and safety is our #1 priority
We serve the Burnett & Polk County area but our services have extended as far as South Dakota and even Chicago! We are located at 613 N Pine St in Grantsburg, WI 54840. Just follow the yellow geese painted on the road and they will guide you right to us.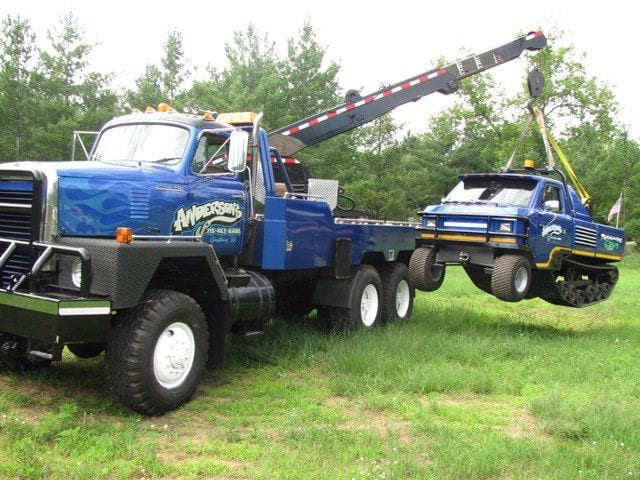 Started in 1984 by husband and wife team, Karl and Becky Anderson, 35+ years later, we Are your family-owned, small-town, one-stop-shop for all your vehicle needs. 
We have a large fleet of towing and recovery equipment, including three flatbed tow trucks, two medium-duty 4×4 on / off-road recovery tow trucks, 30-ton recovery tow truck, 30-ton 6×6 rotator recovery truck, heavy-duty ball-hitch and fifth-wheel hauling trailers, service truck and trailer, specialized off-road and recovery equipment, command center, clean up truck, trailer, Bobcat for cleanup, crew, and equipment, and more! We also provide an indoor and outdoor secured storage lot. Our local police, fire, medical, and DNR personnel appreciate our thorough accident scene clean-up standards, equipment, process, and efficiency. They also appreciate our indoor / outdoor secured storage lot.
Our 15-bay facility allows us to offer many other services, including mount and balancing of most sized tires, tire repairs, engine work, interior and exterior detailing, extensive up-to-date computerized diagnostics, alignments, and diesel and large vehicle repairs and maintenance. Our customers greatly appreciate the courtesy loaner vehicles and shuttle service we offer.
We provide services for commercial, individual, and motor club contracts and accounts. We are currently contracted with our local DNR, but are looking to expand our customer base and feel that our services could be utilized and beneficial to other local, state, Indian, and federal government.
We accept most forms of payment, including, check; cash; credit or debit card; and direct or auto deposit. Credit card payments can be made in person at our office and on scene via our drivers' phones.